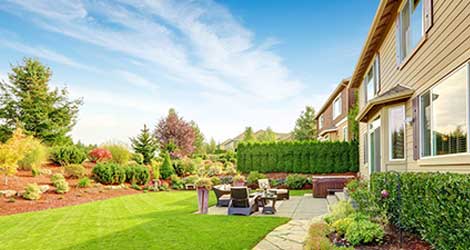 Greenfield Landscaping is your trusted provider of professional in-stone lighting services in Ajax. We understand the importance of outdoor lighting in creating an enchanting and inviting atmosphere for your outdoor spaces. Our experienced team specializes in the design and installation of in stone lighting fixtures that add a touch of elegance and sophistication to your landscape.
In-stone lighting is a popular choice for homeowners looking to elevate their outdoor spaces. It offers several benefits, including:
Enhances Safety
Properly illuminated walkways, driveways, and outdoor areas provide a safe environment for you and your guests, preventing accidents and improving visibility at night.
Accentuates Landscape Features
In stone lighting fixtures strategically placed around your landscape can highlight architectural elements, trees, plants, and other focal points, creating a stunning visual impact.
Extends Outdoor Enjoyment
With in-stone lighting, you can extend your outdoor enjoyment well into the evening hours. Whether it's hosting gatherings, relaxing on your patio, or enjoying a quiet night under the stars, the right lighting enhances the ambiance and mood.
Our In Stone Lighting Services:
At Greenfield Landscaping, we offer comprehensive in-stone lighting services tailored to your specific needs and preferences. Our team of experts will work closely with you to understand your vision and design a lighting plan that complements your landscape design. We utilize high-quality fixtures that are built to withstand outdoor conditions and provide long-lasting illumination.
From pathway lighting and accent lighting to uplighting and downlighting, we have the expertise to create a captivating lighting design that transforms your outdoor spaces. Our skilled technicians will handle the installation with precision and ensure that your in-stone lighting system is seamlessly integrated into your landscape.