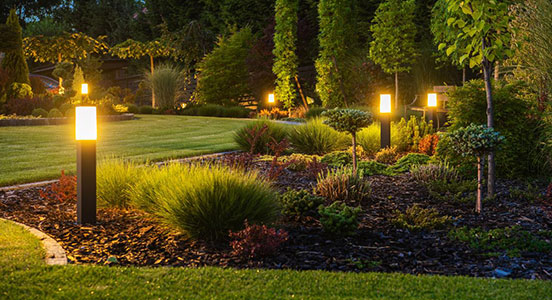 Transform your outdoor space into a mesmerizing sanctuary with our in-stone lighting services. At Greenfield Landscaping, we specialize in installing exquisite stone lighting fixtures that enhance the beauty and functionality of your landscape. Whether you want to illuminate pathways, highlight architectural features, or create a warm and inviting atmosphere, our skilled team will bring your vision to life with precision and expertise.
Professional Design
Our experienced designers will work closely with you to understand your lighting goals and preferences. We will create a customized lighting plan that complements your landscape's aesthetics and enhances its unique features. With a keen eye for detail and a deep understanding of lighting techniques, we will ensure that every element of your outdoor space is beautifully illuminated.
High-Quality Installation
Trust our skilled technicians to install your in-stone lighting fixtures with precision and care. We use top-of-the-line materials and industry-leading techniques to ensure a seamless and long-lasting installation. From burying wires discreetly to positioning lights strategically, we will create a cohesive and visually appealing lighting design that seamlessly integrates with your landscape.
Enhanced Safety and Security
In-stone lighting not only adds beauty to your outdoor space but also improves safety and security. By illuminating pathways, stairs, and other potential hazards, we help prevent accidents and create a safer environment for your family and guests. Additionally, a well-lit landscape deters intruders and provides added peace of mind.
Illuminate Your Outdoor Space Today
Ready to transform your outdoor space into a captivating and welcoming environment? Contact Greenfield Landscaping today to schedule a consultation with our lighting experts. Let us create a customized in-stone lighting design that adds allure and functionality to your landscape. With our professional services, you can enjoy the enchantment of a well-lit outdoor space that will leave a lasting impression.