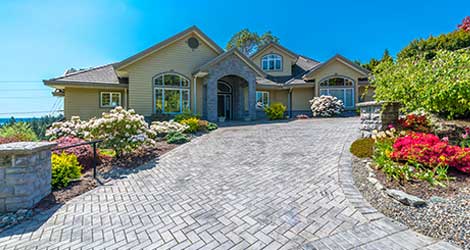 At Greenfield Landscaping, we specialize in providing exceptional driveway and retaining wall services in Brampton. Our experienced team understands the importance of these features in enhancing the overall appeal and functionality of your property. Whether you need a new driveway or a sturdy retaining wall, we have the expertise and resources to deliver outstanding results.
A well-designed and properly constructed driveway not only provides convenient access to your property but also enhances its curb appeal. Our team works closely with you to understand your requirements and preferences, offering a wide range of driveway options to choose from. We use high-quality materials and employ skilled craftsmanship to create durable and visually appealing driveways that withstand the test of time.
Retaining walls are not only practical but can also be a stunning addition to your landscape. They serve the purpose of holding back soil, preventing erosion, and creating terraced levels on your property. Our skilled team designs and constructs retaining walls that blend seamlessly with your outdoor space while providing the necessary structural support. We work with various materials, including concrete, natural stone, and interlocking blocks, to create beautiful and functional retaining walls.
Whether you require a new driveway or a sturdy retaining wall, our team at Greenfield Landscaping is dedicated to delivering exceptional craftsmanship and customer satisfaction. We prioritize attention to detail, quality materials, and timely project completion to ensure your complete satisfaction.