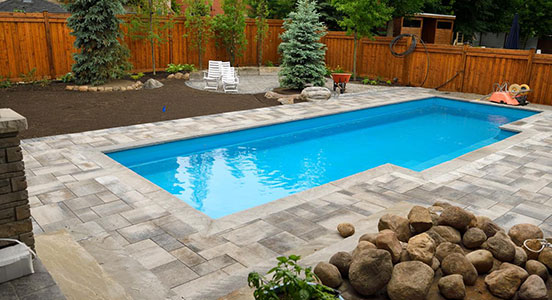 Say goodbye to the hassle of swimming pool maintenance and hello to a worry-free summer with Pretty Seasons. We specialize in taking the green out of your pool water and eliminating the frustrations of pool ownership. Our team of experts will handle the water science and manual labor, allowing you to spend more time enjoying your pool and less time fussing over it. With our professional maintenance plans, we not only build exquisite, designer pools and ponds but also ensure that your water remains crystalline and fresh. Experience the ultimate relaxation and let us take care of your pool while you indulge in the perfect summer getaway.
Imagine stepping into your own private paradise, surrounded by the soothing sounds of water and the refreshing embrace of a cool pool. At Greenfield Landscaping, we specialize in creating stunning ponds and pools that transform ordinary outdoor spaces into extraordinary retreats.
Custom Design
Our experienced team of designers will work closely with you to bring your vision to life. Whether you desire a peaceful water garden with floating lilies and graceful koi fish or a luxurious swimming pool perfect for relaxation and entertaining, we will create a custom design tailored to your preferences and space requirements.
Expert Installation
Trust our skilled professionals to handle every aspect of the installation process with meticulous attention to detail. We utilize high-quality materials and advanced techniques to ensure the longevity and functionality of your pond or pool. From excavation and plumbing to hardscaping and finishing touches, we deliver exceptional craftsmanship from start to finish.
Professional Maintenance
Keep your pond or pool in pristine condition with our comprehensive maintenance services. Our team of experts will handle regular cleaning, water treatment, and equipment maintenance to ensure optimal performance and longevity. Sit back and enjoy the beauty of your aquatic feature while we take care of the necessary upkeep.
Transform Your Outdoor Space Today
Ready to turn your backyard into a serene oasis? Contact Greenfield Landscaping today to schedule a consultation with our pond and pool specialists. Let us guide you through the design process, discuss your options, and bring the beauty and tranquility of water to your outdoor environment. With our exceptional services, you can create a captivating pond or pool that becomes the centerpiece of your outdoor retreat.