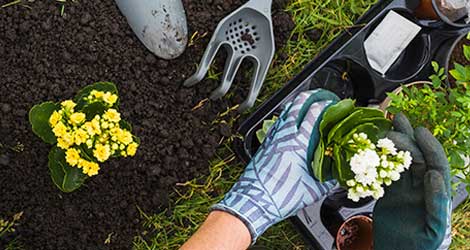 Greenfield Landscaping is your premier choice for professional planting services in Vaughan. We specialize in creating stunning and vibrant landscapes by expertly selecting and planting a variety of flowers, shrubs, and trees. Whether you want to add colorful blooms, lush greenery, or focal point trees, our skilled team will bring your vision to life and create an enchanting outdoor space.
Flower Planting
Add a burst of color and fragrance to your landscape with our flower planting services. From seasonal annuals to perennial blooms, our experts will help you choose the perfect flowers that thrive in Vaughan's climate. We ensure proper soil preparation, spacing, and planting techniques to create a stunning flower display that will bloom throughout the seasons.
Shrub Planting
Enhance the structure and texture of your landscape with our shrub planting services. Whether you desire evergreen shrubs for year-round beauty or flowering shrubs for seasonal interest, our knowledgeable team will help you select the right shrubs that suit your aesthetic preferences and landscape design. We ensure proper planting techniques and provide ongoing care instructions for healthy growth.
Tree Planting
Create a focal point or provide shade and privacy with our tree planting services. Our arborists will guide you in choosing the ideal tree species for your landscape, considering factors such as size, growth habits, and maintenance requirements. We handle tree planting with precision to ensure proper root establishment and long-term health.
Professional Guidance
Our experienced team is here to provide professional guidance throughout the entire planting process. We can offer advice on plant selection, placement, and care to ensure the long-term success and beauty of your landscape. We are committed to exceeding your expectations and creating a garden that delights and thrives.